SMOK RPM REPLACEMENT COILS ACCESSORY
$ 10.10
Quantities available for this product:
0.4OHM MESH : 9
0.6OHM TRIPLE : 0
1.2OHM QUARTZ : 0
1.0 OHM : 9
0.3OHM MTL MESH : 31
The Smok RPM40 Replacement Coils, you can choose the 0.4ohm Mesh Coil, 0.6ohm Triple Coil, 1.2ohm Quartz Coil, 1.0ohm SC coil and the RPM RBA core. the Smok Replacement Coils to meet your different vaping demands. the newly designed RPM mesh 0.4ohm coils designed for the best flavor and excellent vapor production, if you want to try the DIY coil on the RPM 40 Pod Kits, you can choose the RPM RBA Core. can use the 0.3ohm MTL-Mesh, 0.4ohm Mesh and 0.6ohm Triple Coils for the regular e-juice, the 1.0ohm and 1.2ohm Coils optimized for Nicotine Salts.
Quick Links:
Smok RPM40 Pods
RPM Mesh Coil 0.4ohm, Best: 25W, For Best Flavor, Fast Heating Process
RPM Triple Coil 0.6ohm, Best: 25W, Fast Ramp-Up Time, Excellent Flavor & Vapor Production
RPM Quartz Coil 1.2ohm, Best: 12W, Fast Heat Up Time, For Purer Flavor
RPM SC Coil 1.0ohm, Best: 14W, Intense Flavor & Dense Vapor
RPM RBA,

 

1PC Per Pack Only, Supports Coils With A Minimum Resistance Of 0.25ohm,

 

Bring You Massive Vapor And Purer Flavor
RPM MTL Mesh Coil 0.3ohm, Best: 20W, MTL Vaping, Massive Vapor & Excellent Flavor, More Power Efficient & Longer Lifespan
5PCS Per Pack
Fit For

 

Smok RPM40 Kit Only
Includes:
1*RPM40 Coils(5PCS/Pack)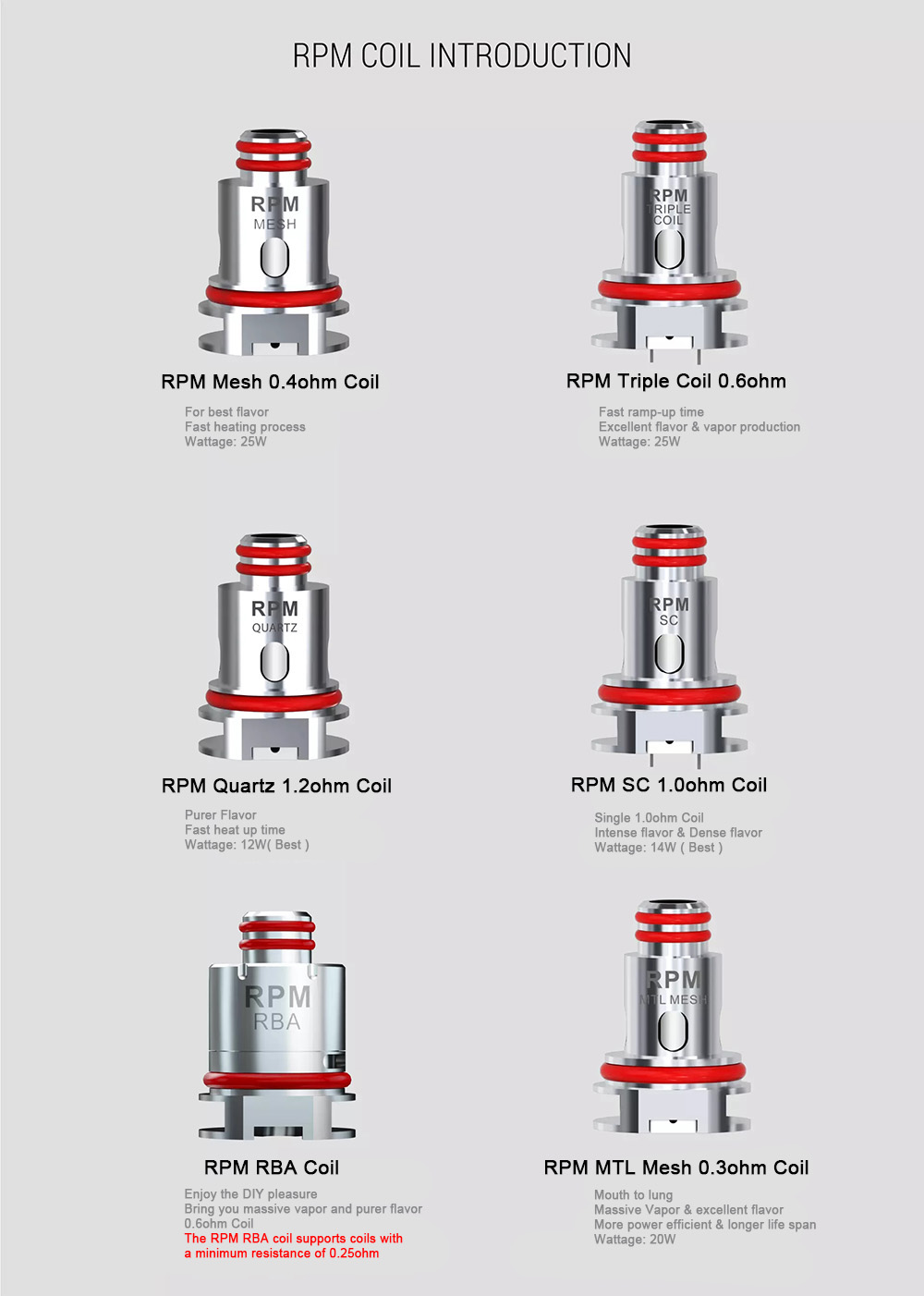 ---
Related Items