ELEAF GS AIR (ELEAF BASIC, IJUST COMPATIBLE) ORGANIC COTTON REPLACEMENT COILS 5 PACK - TC NI200 0.15OHM, 0.75OHM, 1.2OHM OPTIONS
Sold Out $ 7.00
Quantities available for this product:
0.15OHM NICKEL : 0
1.2OHM KANTHAL : 0
0.75OHM KANTHAL : 0
GS Air TC Head
Heating wire: Nickel 200
Resistance: 0.15Ω
Wattage: 40W max
Wick material: pure cotton
5 PIECES PER PACK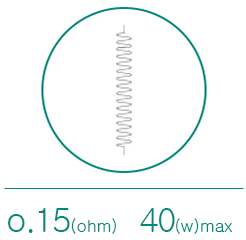 Note:
1.Please first drip a few drops of e-liquid directly into the cotton wick so as to make it fully moist before vaping.
2.Please don't vape until e-liquid nearly runs out. Otherwise, the cotton wick inside will be damaged.

Product Description
Eleaf GS-Air Dual Coil - 5 Pack 1.2ohms Made with Cotton coils

The special coil for Eleaf GS-Air Dual Coil Atomizer now made with cotton wicks.
With excellent quality and craft, it easily brings large vapor. Also, it can work with high wattage batteries.
Specifications
resistance value: 1.2 +/-0.1 ohm
working voltage: 3.5v - 5.5v
working wattage: 8w - 20 w

You will receive:
1 x 5 pack of Eleaf GS-Air Dual Coils with cotton (EITHER 0.15OHM NICKEL, 0.75OHM, OR 1.2OHM)
---
Related Items